Hi there and happy Friday! Let's get started with a close read that I am also sharing as a FREEBIE! We all know and LOVE Snowy Day! So, if you haven't had a chance to try out a close read...now is your chance! Okay, let's get started with Snowy Day!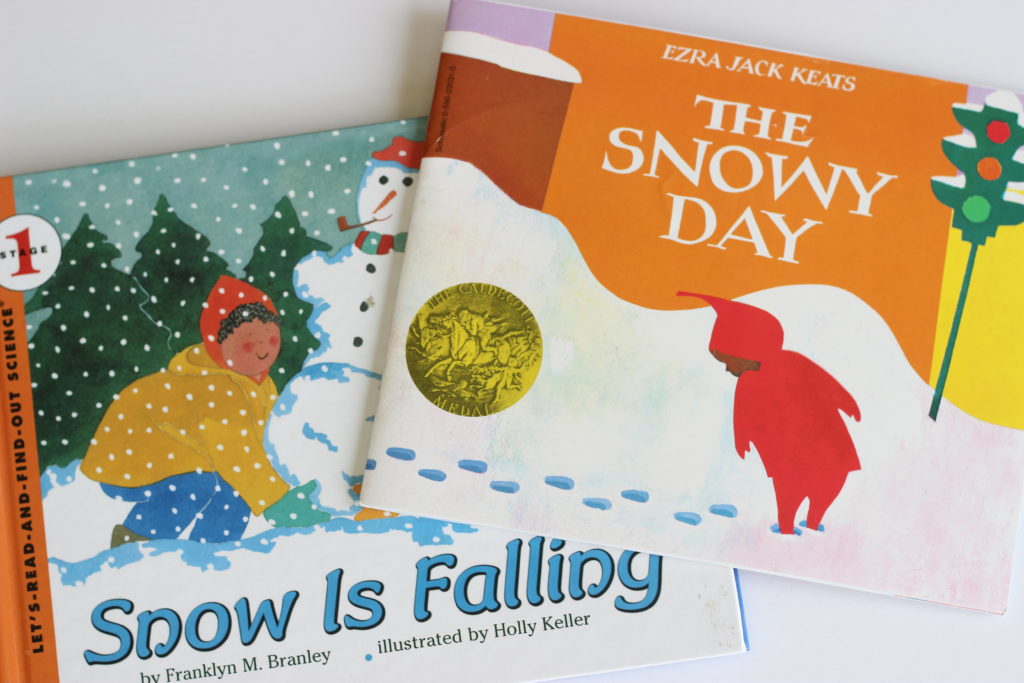 Snowy Day is week one of the 4th unit in
KinderLiteracy
! This unit is the first unit that really starts to teach kiddos that we not only read books to state characters, setting, and for an enjoyment purpose. However, that we also read books to LEARN! I think that it is so important that we relay to the kiddos that we can learn from EVERY book! We teach them that nonfiction texts are great for learning facts, but we can learn from fiction as well! In Unit 4 of
KinderLiteracy
, the students also take a new role on Tuesday's (vocabulary days). I will speak more about that once we get there! The Snowy Day close read is paired with a nonfiction text, Snow is Falling. Remember that you don't have to use that paired text... any text you have that would pair nicely will work! This week's essential question, How does the author portray the conclusion of the story? The "life-based" essential question, Why does snow melt? Can you prove this? Like I mentioned above, I love getting the kiddos to pick up on that factual knowledge!
To recap the process again in case you aren't as familiar with it....day one is all about learning the theme of the text! This week's theme is SNOW! Below you can see an example of snow bubble chart!
As I mentioned above in unit 4 we take up the vocabulary a notch as well! Below is a look at the vocabulary word cards and definitions! In unit 4, we will ask that the students think about the unknown words to more of a critical thinking level. Instead of just focusing on what the word is, we will also determine HOW we figure out that meaning. I feel it's important to teach this "reversed" thinking skill so when they come to an unknown word in their reading they will have these same three tools to try! In unit you are give these three picture cards. I taped mine onto my teacher cart and then they were they to access each week thereafter! As we came to a
KinderLiteracy
unknown word we would stop to discuss the word, its meaning, the action and then end with HOW we figure out that word...did we use the picture, did we use the words, or did we have to infer AKA my teacher most likely had to give it ha! These skills then become part of their tool chest for independent reading time. Hmm.... I came to this word that I don't know. Okay, I can use the words and pictures to help me. If that doesn't work then I might just have to infer what it could be!
Let's talk possible actions for the sight words!
piled: use both hands to motion a stacking action
pretend: have kiddos make animal noises to 'pretend' they are that animal
path: use both hands and 'walk' them in a straight line in front of you
firm: pretend to make a snowball, be sure pack it tightly
sank: make a sinking motion towards the ground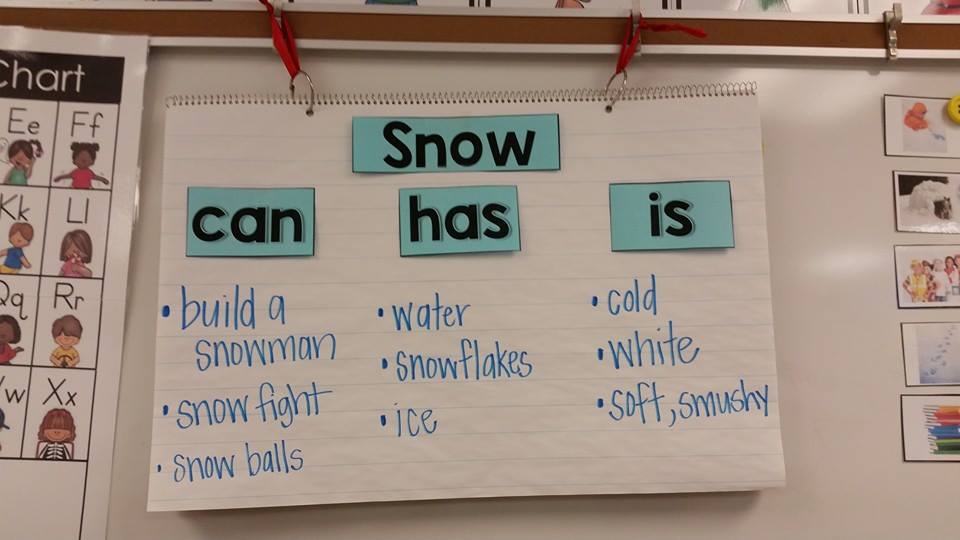 Below are a couple of shots of the week's poem!
You also can't do this week justice without PLAYING IN THE SNOW! The kiddos loved, loved, loved this! It also works for y'all in the warm states...you know while we suffer here in the midwest, ha! Before starting the experiment, we started a snow anchor chart. This one would contain descriptive words that we could use to describe the snow. I got a few answers and then we came back to it after the experiment and added more!
This "recipe" is so easy! I mixed two boxes of baking soda and 3/4 cup of conditioner in a bowl. This was enough for five students
! I had placed the conditioner in the refrigerator so that it would be cold! They kids had a blast!!! I did put down the tablecloths which helped with the mess tremendously! Fun times!
The consistency is so similar to real snow! Also like I mentioned above...placing the conditioner in the refrigerator makes it so realistic as well!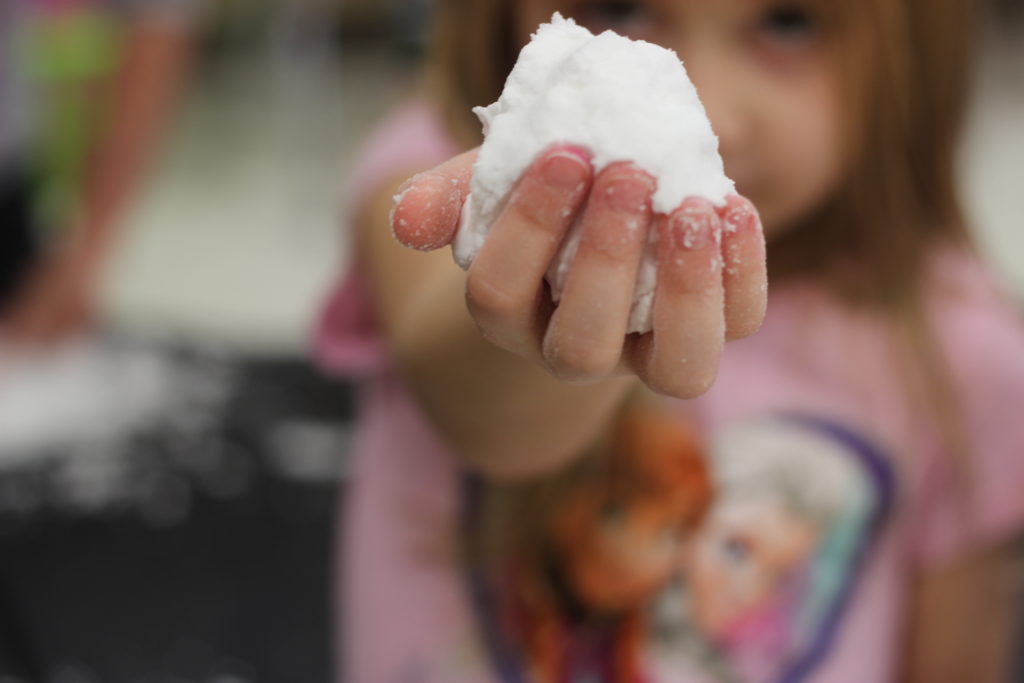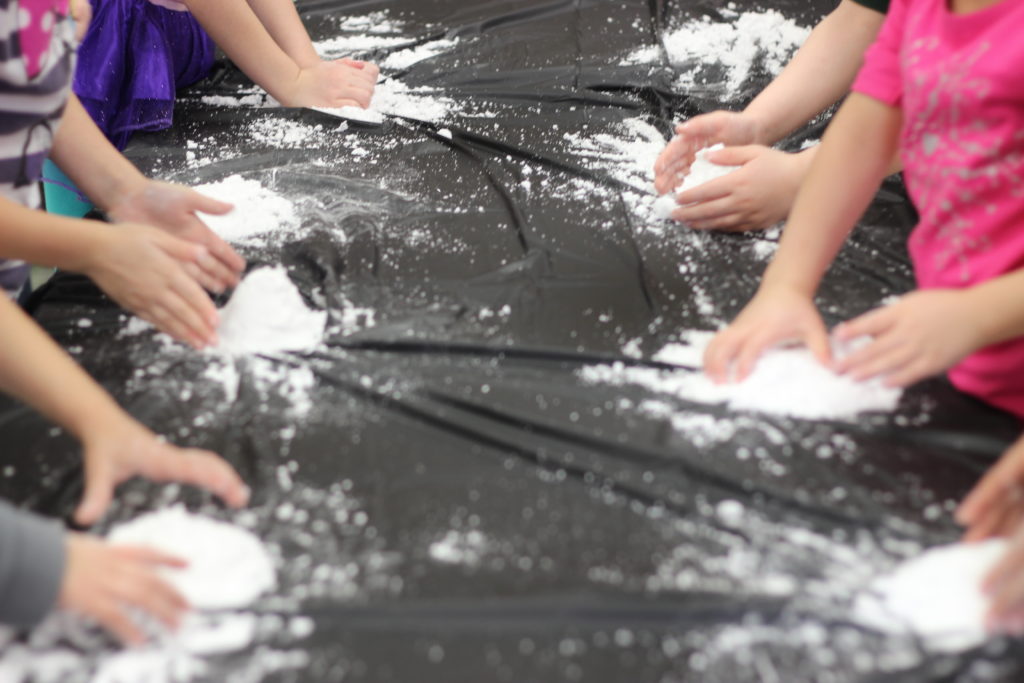 I did not have recess duty so I was able to get the room set up prior to the kiddos coming in! I put down the table clothes and then gave each kiddo a pile of snow!
Because our essential question dealt with melting, we also did this fun experiment! We created three "snowmen" using frozen water bottles. Technically to make the experiment completely accurate, I would have used the same sized bottles ;) We poured salt in one, one was placed in hot water and the last was the control.
Here is a picture at the end of the day! The one sitting in the hot water had melted the quickest!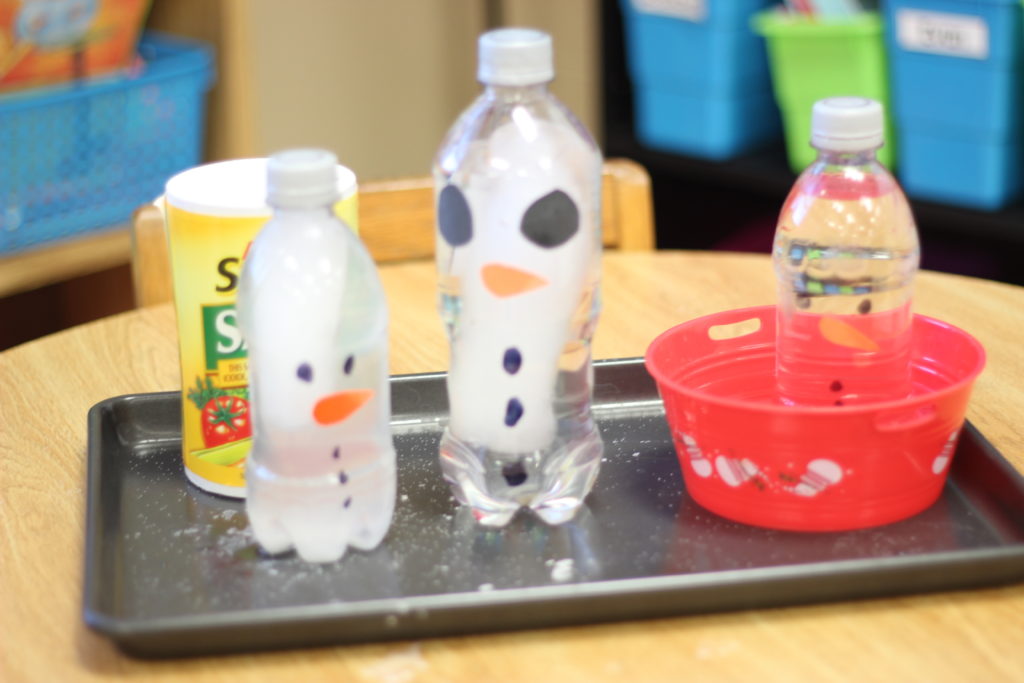 Earlier I mentioned that this entire week would be a FREEBIE! Below is a short video where I share about the units and what is included! Directly below the video is a link for the download!
---
---
You can click HERE to download the freebie Snowy Day lesson plan *
HERE
* or clicking on the image below!
Also, while we are on The Snowy Day...have you seen this??? So Adorable and FREE if you are an Amazon Prime member! It is a Snowy Day MOVIE!!!!!